The Importance of Proper Drain Field Installation in Bartow, FL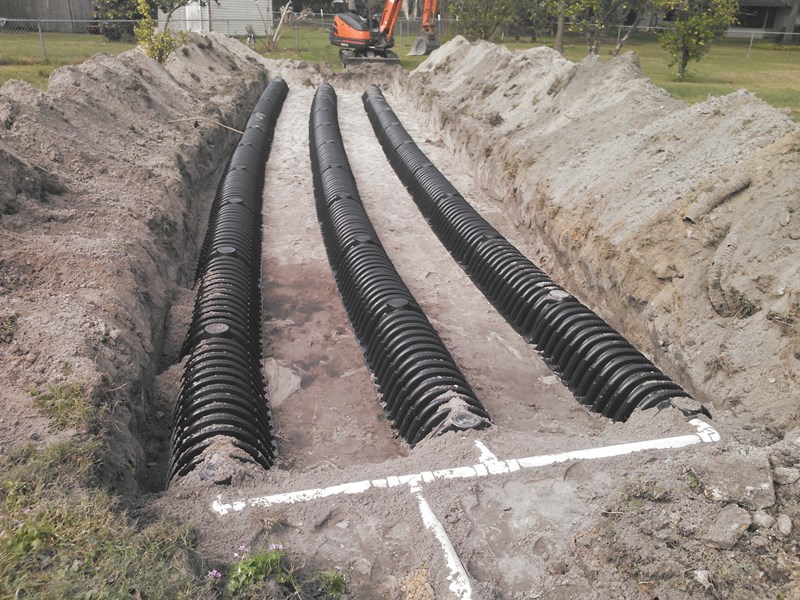 Drain Field Installation in Bartow – If you live in a rural area or far away from a sewage plant, chances are high that you have a septic system. However, if you don't have proper drain field installation, you can suffer serious consequences.
In order to begin the drain field installation process, trenches measuring about 4-6 feet in depth and 2 feet in width must be dug. The number of pipes needed will depend on the size of the septic tank. Once the pipes are placed in the ground, the trenches are then filled partway with gravel, which helps to absorb the waste. The size of the drain field varies, depending on the absorbency of the soil. Most septic systems flow using gravity, but you can also have a septic system that uses an electric pump to move waste out of the tank and through the process.
Drain field installation is a crucial aspect of a septic system, and without proper drainage, your tank will back up and cause problems. Many people choose to use a professional to install a septic system, since there is high risk of water pollution and environmental damage if a novice tries to install the equipment. It also requires the use of heavy machinery to bring in the septic tank and pipes, so make sure that the company has experience and permits to bring in and operate this equipment. A septic system can be a great option for those who aren't close to a sewer plant, as long as the drain field is installed correctly.
If you are looking for a professional company to help you with drain field installation in the Bartow, Florida area, feel free to give us a call at William Dustin Septic.
---
We offer drain field installation throughout Central Florida, including Bartow, Mulberry, Auburndale, Polk City, Plant City, Winter Haven, Lake Alfred, Lake Wales, Lakeland, and Haines City, FL.